Ep. 2 - Library Reads | May 2019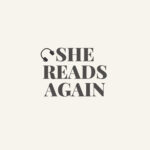 *This post contains affiliate links*
For my second episode, I wanted to introduce you all to a series which started as blog posts and I would now like to turn into podcast episodes.
Library Reads is a series about the books my daughter borrows from the library. We don't necessarily end up reading all of the books we borrow from the library, but the ones we do sometimes would be read multiple times in the three weeks we have them.
Books mentioned in this episode:
Listen on iTunes / Apple Podcasts
Listen on Stitcher
Listen on Google Play
Listen on Spotify
Listen on a platform of your choice: podcast RSS feed

She Reads Again: Blog | Instagram | Goodreads
If you enjoyed listening to this episode, feel free to subscribe, rate and review on a podcast platform of your choice. You can also follow and message me through Instagram, or through the comments sections here in my blog.
Thank you for listening!