The Very Last Leaf by Stef Wade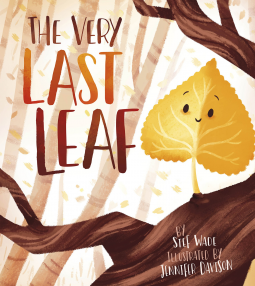 The Very Last Leaf by Stef Wade is an adorable book. We watch Lance Cottonwood pass his classes with flying colours: from wind resistance, photosynthesis to pigment changing. He's easily the best in his class. However, during his final exams we find out there is one thing he worries about.
This is such a great book not just for little kids, but also for adults. It teaches us a few things:
We can only be ourselves. We not need to compare us to others as we all have our own unique traits that make us who we are.
We are all capable of different things.
We all are afraid or worried of something.
Hardwork pays off.
I think I read this book in just the right time. We're all in quarantine: we're advised to social distance; to not make any store trips unless absolutely necessary. And I think the one that this story touches the most: our kids are currently home from school. Lance's teacher knew he could do it. His teacher understood the reason for his hesitation to complete his final exam and assures him that he's worked hard for what he's about to accomplish without forcing him to jump.
So this is for the students and the teachers out there. You guys rock!
Publication Date: Sept. 1, 2020.