BLOG TOUR | You Know I'm No Good by Jessie Ann Foley
In You Know I'm No Good, we follow Mia through her stay at Red Oak Academy as a result of being a troubled teen. We also know from the beginning the last straw that pushed her father and stepmom to have her admitted. What we don't know however, until a little further to the story, is the reason that started her spiral out of control.
In Red Oak Academy, we get a glimpse of who Mia really is: a smart and caring person who needed to have such a tough facade in order to mask the pain and hate that's been pushed away for years. I had a great time reading her conversations with Vivian during their sessions to a point where I looked forward to their future meetings. I was also relieved that she was able to make friends, and at some point enjoy herself despite being there.
There were different avenues in Mia's life that was touched on in this story. We find out her mother passed away; her dad remarried; and that her and her stepmom doesn't necessarily have a great relationship. The juxtaposition of the present with the past did good in presenting these information. However, with my copy having 65 chapters, I would've wished for these aspects to have been explored more.
There are a few painful things this book was good at illustrating: that girls / women will never walk away unscathed after their abuse; and how terrifyingly ruthless girls / women can get with each other regardless of how great we are in supporting and lifting each other up.
Thank you to Quill Tree Books (HarperCollins) for providing me with a free digital copy for review.
Giveaway Information:
BLOG GIVEAWAY INFO: Up for grabs is ONE copy of Jessie Ann Foley's You Know I'm No Good. This giveaway is open to US residents only, and will run from October 9th - October 16th at 11:59PM CST.
Here is the link to enter to win via the rafflecopter.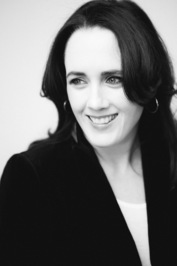 Author bio.
Jessie Ann Foley's debut novel, The Carnival at Bray, was a Printz Honor Book, a Kirkus Reviews Best Book, a YALSA Top Ten Best Fiction for Young Adults title, and a William C. Morris Award finalist. Her second novel, Neighborhood Girls, was an ALA Booklist Editors' Choice and a YALSA Best Fiction for Young Adults title. Sorry for Your Loss, her third novel, was an Illinois Reads selection. You Know I'm No Good is her fourth novel. Jessie lives with her husband and three daughters in Chicago, where she was born and raised. To learn more about Jessie, visit her online at www.jessieannfoley.com.