BLOG TOUR | Never After: The Thirteenth Fairy by Melissa De La Cruz
TITLE: The Thirteenth Fairy (Never After, #1)
AUTHOR: Melissa de la Cruz
PUBLISHER: Roaring Book Press
RELEASE DATE: December 1st, 2020
GENRE(S): Middle Grade Fiction--Fantasy
SYNOPSIS:
Real life and fairy tales collide in Never After: The Thirteenth Fairy, book one in the new middle-grade Never After series from the #1 New York Times bestselling author of The Descendants series, Melissa de la Cruz.
Nothing ever happens in Filomena Jefferson-Cho's sleepy little suburban town of North Pasadena. The sun shines every day, the grass is always a perfect green, and while her progressive school swears there's no such thing as bullying, she still feels bummed out. But one day, when Filomena is walking home on her own, something strange happens.
Filomena is being followed by Jack Stalker, one of the heroes in the Thirteenth Fairy, a series of books she loves about a brave girl and her ragtag group of friends who save their world from an evil enchantress. She must be dreaming, or still reading a book. But Jack is insistent--he's real, the stories are real, and Filomena must come with him at once!
Soon, Filomena is thrust into the world of evil fairies and beautiful princesses, sorcerers and slayers, where an evil queen drives her ruthless armies to destroy what is left of the Fairy tribes. To save herself and the kingdom of Westphalia, Filomena must find the truth behind the fairytales and set the world back to rights before the cycle of sleep and destruction begins once more.
My Thoughts:
When Filomena Jefferson-Cho started reading the Never After series, she never thought she would one day be part of the story. Not until the day she realizes that her favourite series will not have the ending she's been waiting for: the same day she meets Jack Stalker who she thought was a person who's really into (and really great at) cosplay.
What I enjoyed the most about this book are the nods to the fairytales and children's story we all grew up with: Little Red Riding Hood, Aladdin, Hansel and Gretel, The Three Little Pigs to name a few. It's fun seeing these on the first time Filomena steps into Never After. Even the name of the place, Never After, seems like a reference to Neverland from Peter Pan (or that could be just me, haha!).
Would I recommend this book? Yes I would. Never After: The Thirteenth Fairy depicts the fact that you can be afraid and brave. It shows friendship. Most of all, it shows the depths of what someone who loves you will do to keep you safe fro harm.
Thank you to Macmillan Children's Publishing Group and Netgalley for providing me with a free copy for review. This did not affect my view and thoughts of the book.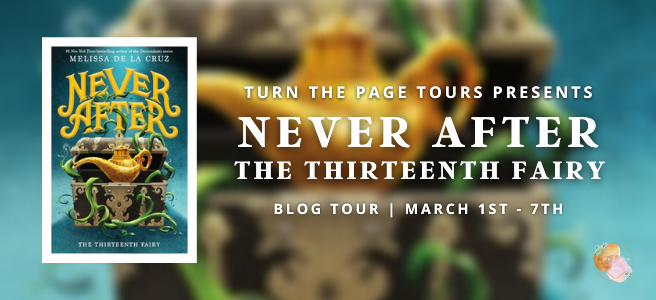 Giveaway Information:
Up for grabs, we have ONE (1) physical copy of The Thirteenth Fairy (Never After, #1) by Melissa de la Cruz. This giveaway will run from March 1st to March 8th at 11:59 PM CST and is open to US residents only.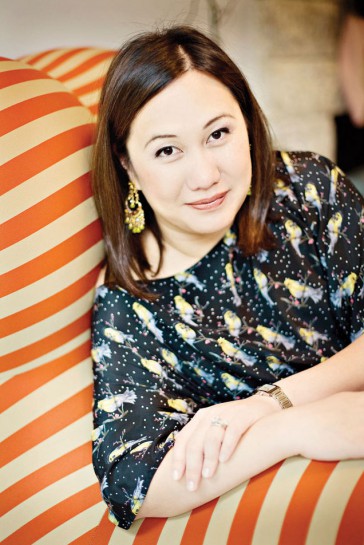 Author bio:
Melissa de la Cruz is the New York Times and USA Today best-selling author of many critically acclaimed and award-winning novels for teens including The Au Pairs series, the Blue Bloods series, the Ashleys series, the Angels on Sunset Boulevard series and the semi-autobiographical novel Fresh off the Boat.
Her books for adults include the novel Cat's Meow, the anthology Girls Who Like Boys Who Like Boys and the tongue-in-chic handbooks How to Become Famous in Two Weeks or Less and The Fashionista Files: Adventures in Four-inch heels and Faux-Pas.
She has worked as a fashion and beauty editor and has written for many publications including The New York Times, Marie Claire, Harper's Bazaar, Glamour, Cosmopolitan, Allure, The San Francisco Chronicle, McSweeney's, Teen Vogue, CosmoGirl! and Seventeen. She has also appeared as an expert on fashion, trends and fame for CNN, E! and FoxNews.
Melissa grew up in Manila and moved to San Francisco with her family, where she graduated high school salutatorian from The Convent of the Sacred Heart. She majored in art history and English at Columbia University (and minored in nightclubs and shopping!).
She now divides her time between New York and Los Angeles, where she lives in the Hollywood Hills with her husband and daughter.